Developed in collaboration with PDEVX FPV, get a precise flying experience with the new PIRAT Hook V2 Frame! The V2 frame now features more durability in both the front and rear so even when flying backwards your quad is ready to take a hit. It features Caddx Vista integration, and adaptivity to all size FPV cameras. 
We craft from strong as f#% materials! The frame of course is made from Chamfered Full 3K T300 carbon fiber, uses custom made 12.9 steel torx screws and, 7075 aluminum spacers. The Hook V2 focuses on excellent CG balance by letting you choose between a "True X" or "Squashed X" arm layout and by mounting the battery in a "toilet tank" setup to give a telepathic and precise flight feel. Custom made with 235mm motor distance to give you enough space for clean air and flight stability. Your going to fall in love with it!
Check out our 5" Frames and the rest of our Pirat Frames Collection!
Features
Choose between TrueX and Squished geometries with the same set of arms
Uses the same arms as the Sloop 3 Pirat frame
5mm Arms and 2.5mm Bottom/top Plate thickness
Works with most camera sizes - 22 or 20mm
Allows 21mm Maximum Stack Height
7075 T6 Aluminum Custom Standoff
Full T10 Torx 12.9 Steel Screw Set
Chamfered Full 3K T300 Carbon
Toilet Tank LiPo Positioning
30x30 Mounting Pattern in the front and 20x20 mounting in the rear

Compatible with analog VTx and Vista - DJI O3 & Walksnail can fit, but check your other components sizes.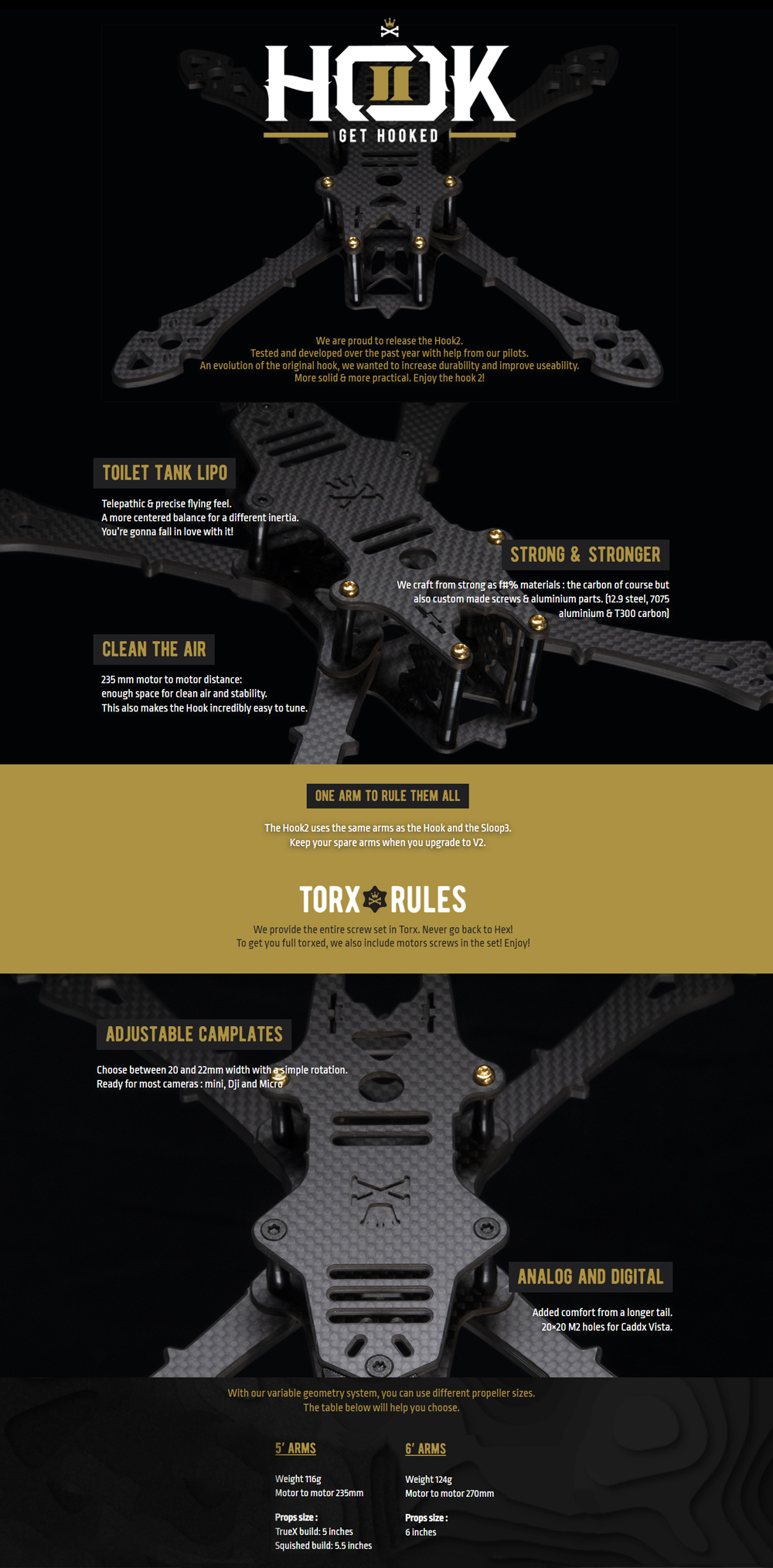 TORX SCREWS RULE
Get ready to say goodbye to stripped hex screws! Once you try torx, you'll never go back. All Pirat frames are delivered with full T10 Torx screw sets and a Torx key.
ONE ARM TO RULE THEM ALL
Choose your geometry between Squished or TrueX arm layout with the same arm set. PDEVX highly recommends the TrueX layout. The Hook and the Sloop V3 frames even share the same arms!
STRONG HARDWARE
Crafted from strong materials with custom-made screws & aluminum parts. (12.9 steel, 7075 aluminum & T300 carbon)
TOILET TANK LIPO
Toilet Tank LiPo positioning creates a more centered balance for better inertia.
ADJUSTABLE CAMPLATES
Choose between 20 and 22mm width with a simple rotation making this frame ready for most cameras (mini, DJI and Micro sizes).
ANALOG AND DIGITAL CAPABLE 
20x20mm mounting holes in the rear allow for mounting of both analog and digital FPV video systems.
3D PRINT DESIGNS AND BUILD INFO:
Includes
2 x 28mm Custom standoffs in 7075 aluminum
5 x 21mm Custom standoffs in 7075 aluminum
16 x 8mm black 

M3 

Torx T10 12.9 steel

 motor screws
1 x 3D Printed VTX Antenna Mount
8 x 6061 Aluminum Custom washers
1 x 

Torx T10 key

4 x 12mm M3 Torx T10 12.9 steel countersunk screws
4 x 16mm

M3 

Torx T10 12.9 steel 

countersunk screws
6 x 8mm 

M3 

Torx T10 12.9 steel

countersunk screws
4 x 10mm 

M3 

Torx T10 12.9 steel

gold colored pan screws
1 x 20mm / 230mm lipo strap
4 x 5mm Arm 5"
4 x Black Hex Pressnuts
4 x Foam landing pad
1 x Silicone lipo pad
1 x Silicone grommet for battery cable
2 x Camera plate
1 x 2.5mm Bottom plate
1 x 2mm Middle plate
1 x 2.5mm Top plate