The ImmersionRC Ghost Uber Lite RC Transmitter Module is designed for both reliable control at extreme range, and extremely low latency with a best-in-class frame rate for the Race circuit. This module works perfectly with the Orqa FPV.Ctrl Radio Controller.
When you are ready to take your piloting skills to the next level, this Rc Transmitter will provide the range capabilities you need to achieve the perfect flight. This module is a full range 2.4GHz (LoRa/FLRC) Ghost radio module with 500Hz synchronized frames, integrated foldable antenna, and maximum output power of 350mw. Probably the best radio module ever.
Check out all our ImmersionRC Ghost Related items and the rest of our ImmersionRC Collection
Features
Works perfectly with the Orqa FPV.Ctrl
Full range 2.4GHz (LoRa/FLRC) Ghost radio module
500Hz synchronized frames for race use
Full telemetry for 30+km of range
Integrated Foldable Antenna
2.4GHz And Long Range Capabilities
ImmersionRC is setting a new standard with its Ghost system serving both the needs of Long-Range pilots, Freestylers, and Racers. Easily achieve ranges of 10s of km with equipment light enough, and antennas compact enough, to perfectly accompany your drone into the neighboring country. Since 2.4GHz antennas are relatively small, a directional antenna on the transmitter can easily double the expected range.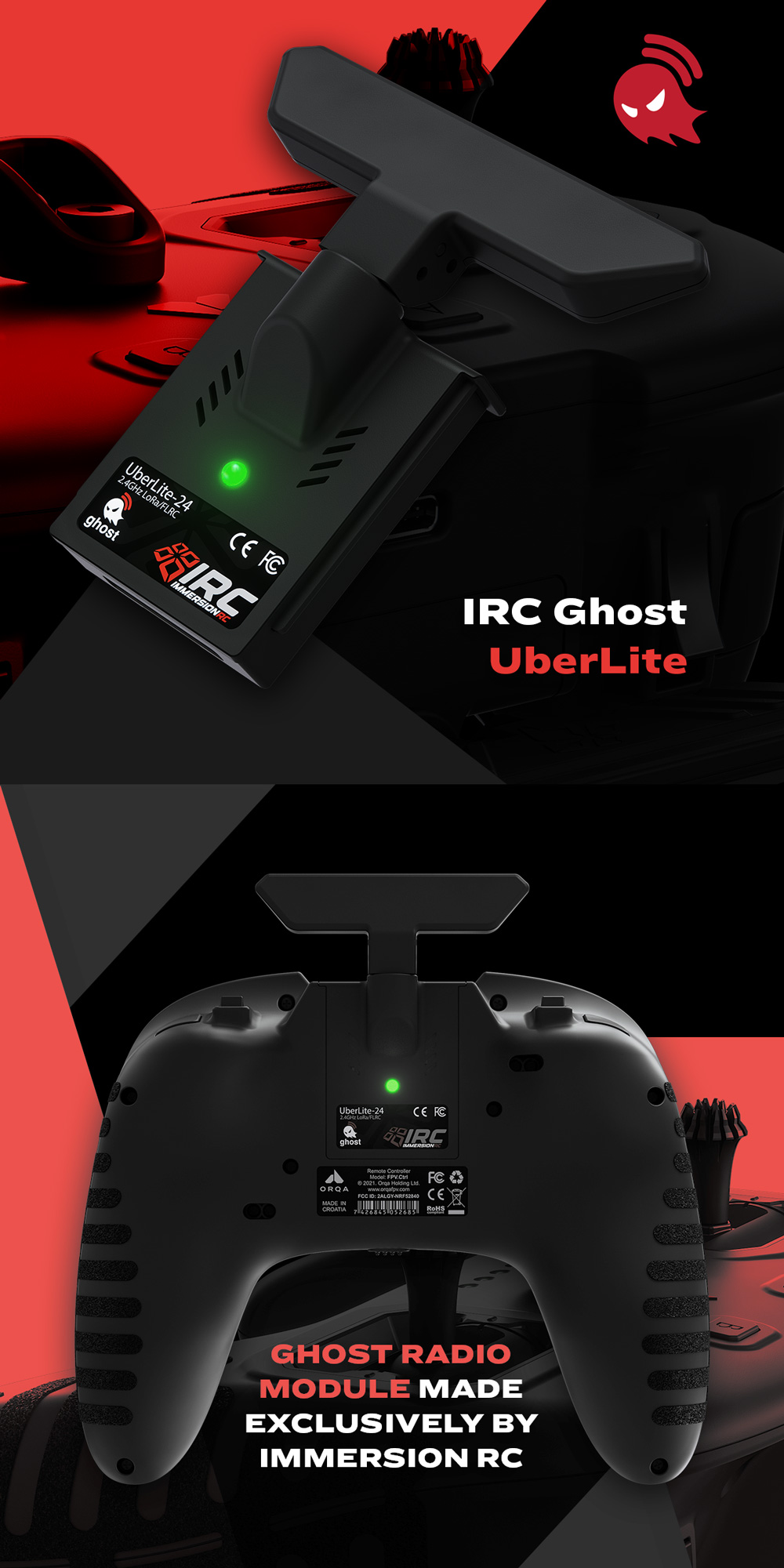 Specifications
Frame Rate: 500Hz (race) 250Hz (purerace), 166Hz (race), 62Hz (normal), 15Hz (long range)
OpenTx support: 2.3.11 release, or 'high performance' synced version of 2.3.11
RF Profiles: Race, Pure Race, 'Normal', and Long Range, more to come
Item Name: IMMERSIONRC GHOST UBER LITE TX MODULE
Binding: Bidirectional with confirmation and protocol negotiation
Firmware: USB Upgradable(with OTA updates for receivers)
Power Supply: 6V-20V, 1.75W @ 350mW, ~250mA at 7.4V
Modulation: Chirp Spread Spectrum + Adaptive FHSS
Uplink Tx Power: 16uW - 350mW (+/- 0.5dB) 3
Frequency: Full range 2.4GHz (LoRa/FLRC)
Serial Formats: SBus, GHST, Auto-sense
Frequency Range: 2406 - 2479MHz
Telemetry: 30+km of range
Brand: ImmersionRC
Antenna: Foldable
Note: All Ghost receivers currently have multiple binding methods. It is recommended to bind via SRXL2 on a standard UART, the Ghost Protocol will be available with the release of OpenTX3.4.
Includes
1x ImmersionRC Ghost Uber Lite Tx Module
Note: Radio Controller is not included. 
Warranty Policy:
If any warranty needs for this product arise, please note that the manufacturer of this product is one of the few manufacturers we carry that requests the end user to contact them directly for any troubleshooting or possibly defective items. We must follow these policies set by these manufacturers. Please make sure to contact them directly if you feel your product is defective in any way. Reach out to us if you need an email address or contact link for this manufacturer.