Sleek new Wind5 Lite frame by HGLRC in TRUE-X Configuration! 
Powerful. gorgeous, 5" frame made from 3k Carbon Fiber with 5mm thick arms and 4mm thick arm braces, but only 80gs in weight!

Check out the Wind5 Lite Collection, all our 5 Inch Frames and the rest of our HGLRC Products!
Specifications: 

Material:3K Carbon Fiber

Type:5" frame

Wheelbase:208mm

size:148*148mm

Top plate thickness:2mm

Bottom plate thickness:2mm

Middle plate thickness2.5mm

Arm Thickness:5mm

Top and middle plate spacing:25mm

Installation holes:20x20/30.5x30.5mm

Support camera:14mm

Weight:80g
Features:

Flight control installation damping system

4mm protective bar

SMA antenna Mount

Camera Mount

Anti-turtle Shark Fin
Package Includes:

1x 2mm top plate

1x 2mm bottom plate

1x 2.5mm middle plate

4x 5mm arm

2x 4mm protective bar

4x M3*25mm black aluminum column

4x round head screw M3*25

4x round head screw M3*16

12x round head screw M3*12

1x Sink head screw M3*10

8x round head screw M3*8

2x round head screw M2*4

4x M3 Self-tightening nut

4x M3*6.6 shock absorber ball

4x M3*8 shock absorber ball

1x Battery cable tie 15x250mm

1x Battery cable tie 20x250mm

1x Battery Anti-slip tape

2x strap

1X Anti-turtle Shark Fin

1X SMA antenna Mount

1X Camera Mount
Recommended Parts:( Not Included )

Flight Controller: Kiss/F4/F7 FC

Motor: 2207.5/2306.5/2408

ESC: 35A-65A

Camera:14x14mm size

Propeller: Sector 5 - 5.2 Inch

Battery: 4S 1300mAh ~ 6S 1800mAh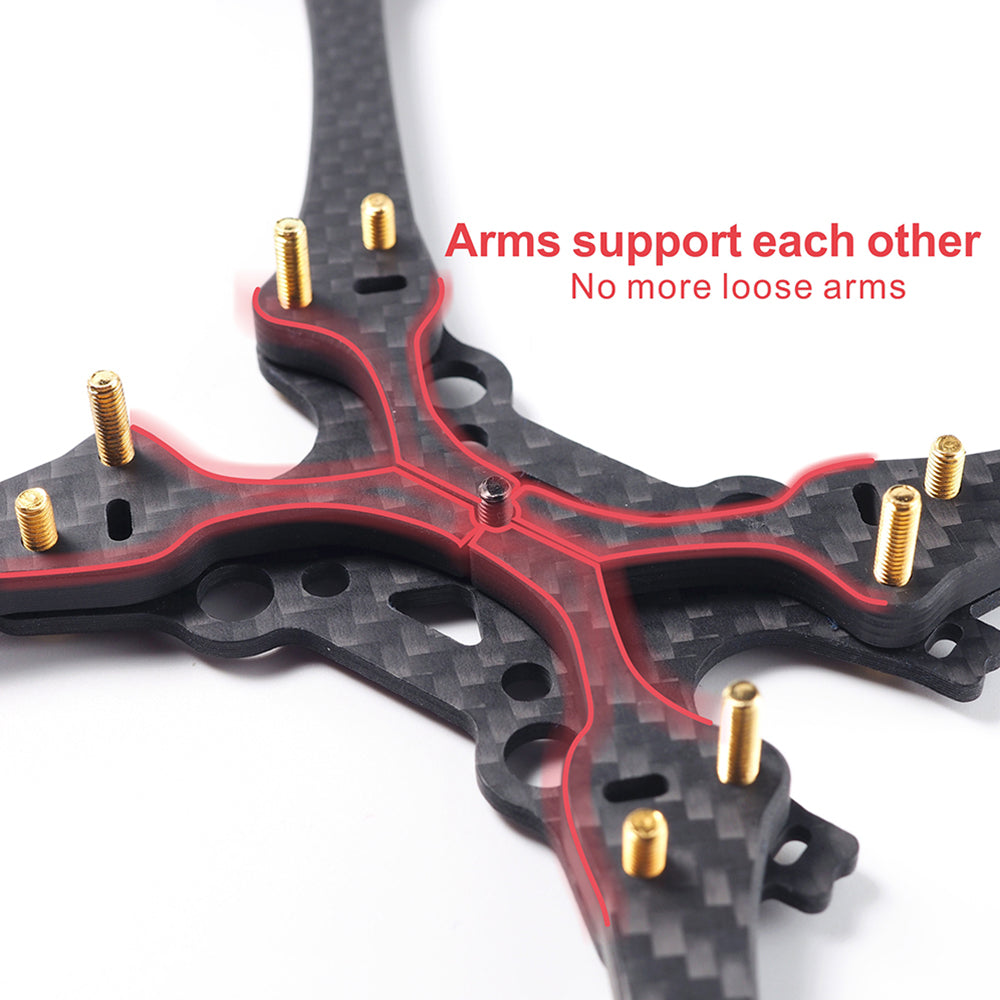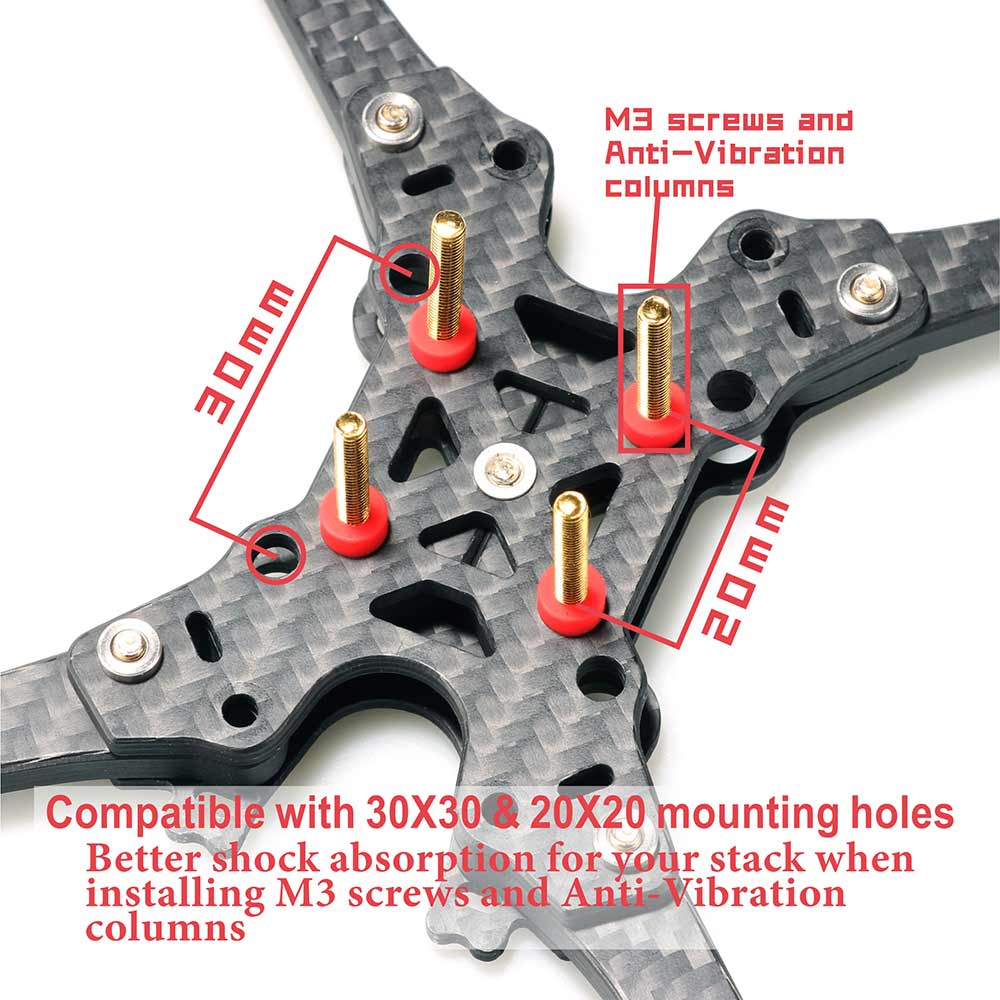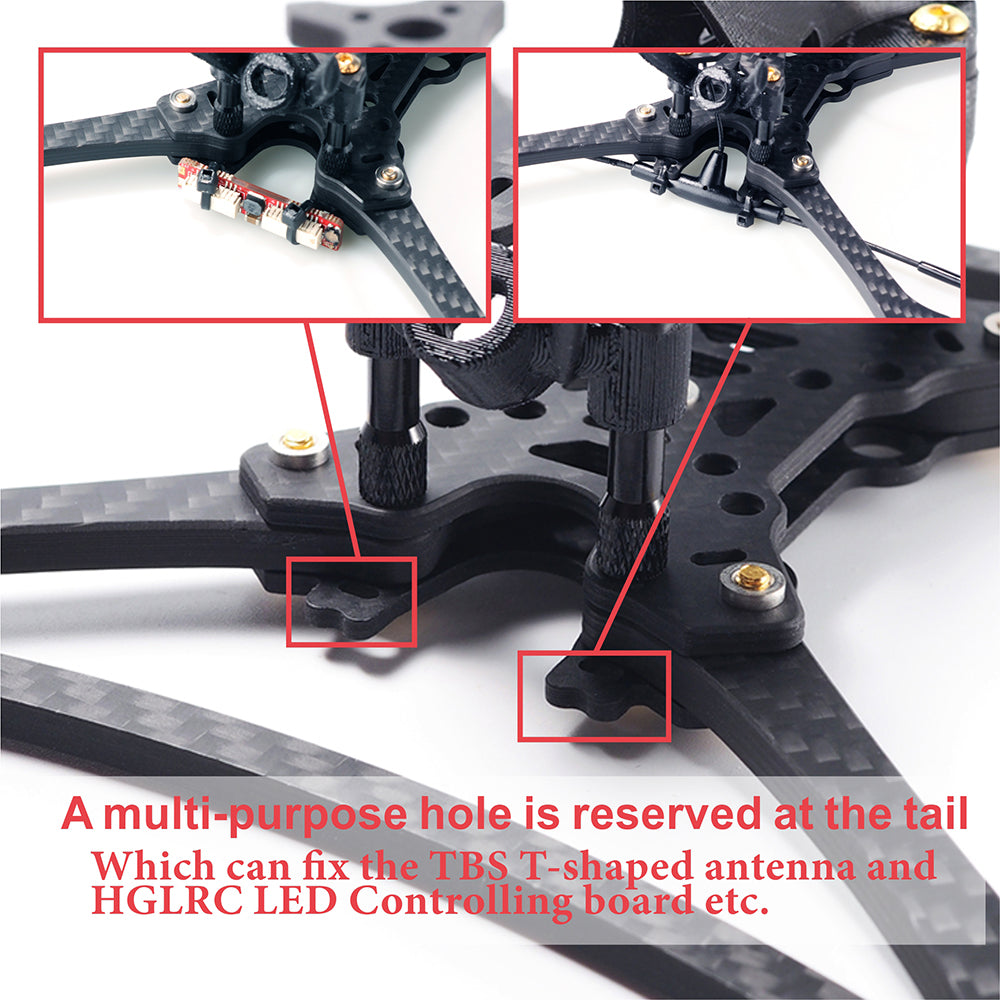 You can find all the STL files for the TPU parts on the Wind5 lite here