The Ethix edition HOTA D6 Pro supports 2 channels of 325W charging and features a highly optimized charging algorithm with efficiency up to 94%. This charger does it all, without over complicating things. It's easy to configure with a clear color LCD and Speed Shuttle Key interface, and has the added bonus of a 5V USB port AND Wireless charging on the top panel. Quickly and easily charge your iPhone, Samsung S8 and other wireless charging compatible mobile devices.  
Check out all our Chargers & Power Supplies and the rest of our Hota Products!
Specifications
Model NO.: Ethix D6 Pro 
Input Voltage:  AC100~240V / DC 6.5~30V 
Charge Current: 0.1~15A * 2 
Charge Power:

DC 325W * 2(650W)  
AC 200W

(

Support power distribution

)

Discharge Power:

Internal discharge: 15W * 2(balance port 10W) 
External discharge: 325W * 2 

Battery Type:

LiHv/LiPo/LiFe/Lilon/Lixx : 1~6S 
NiZn/Nicd/NiMH : 1~16S 
Smart Battery : 1~6S 
Lead Acid(Pb) : 2~24V 
Enelop : 1~16S 

Balance Current: 1600mA * 2 
Discharge Current: 0.1~3A * 2 
External Discharge Current: 1~15A * 2 
USB Output: 5V / 2.1A 
Dimensions: 108×105 ×76mm 
Net Weight:  555g 
Includes
1x Ethix D6 PRO Dual Charger AC200W/DC650W 15A w/ Wireless Cellphone Charging
1x AC Power Cord 
1x Manual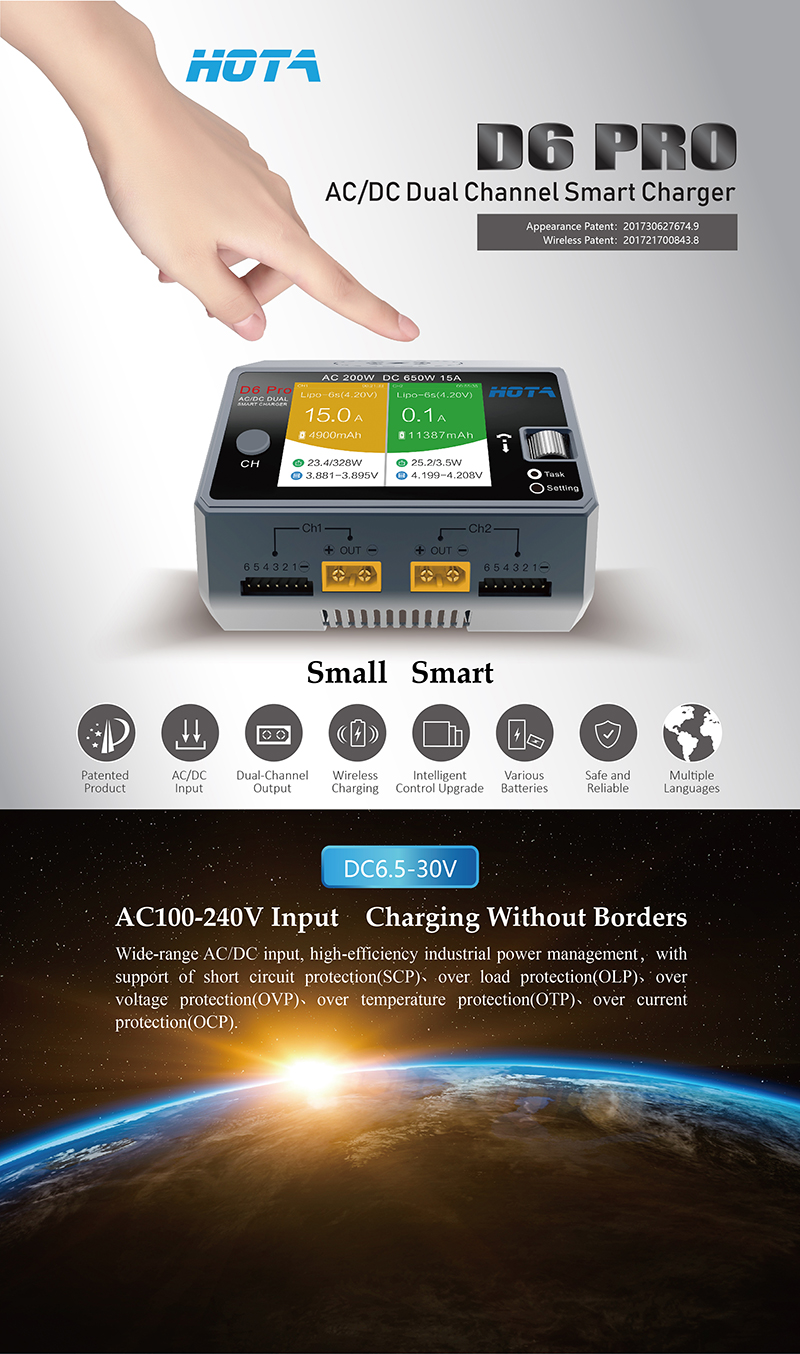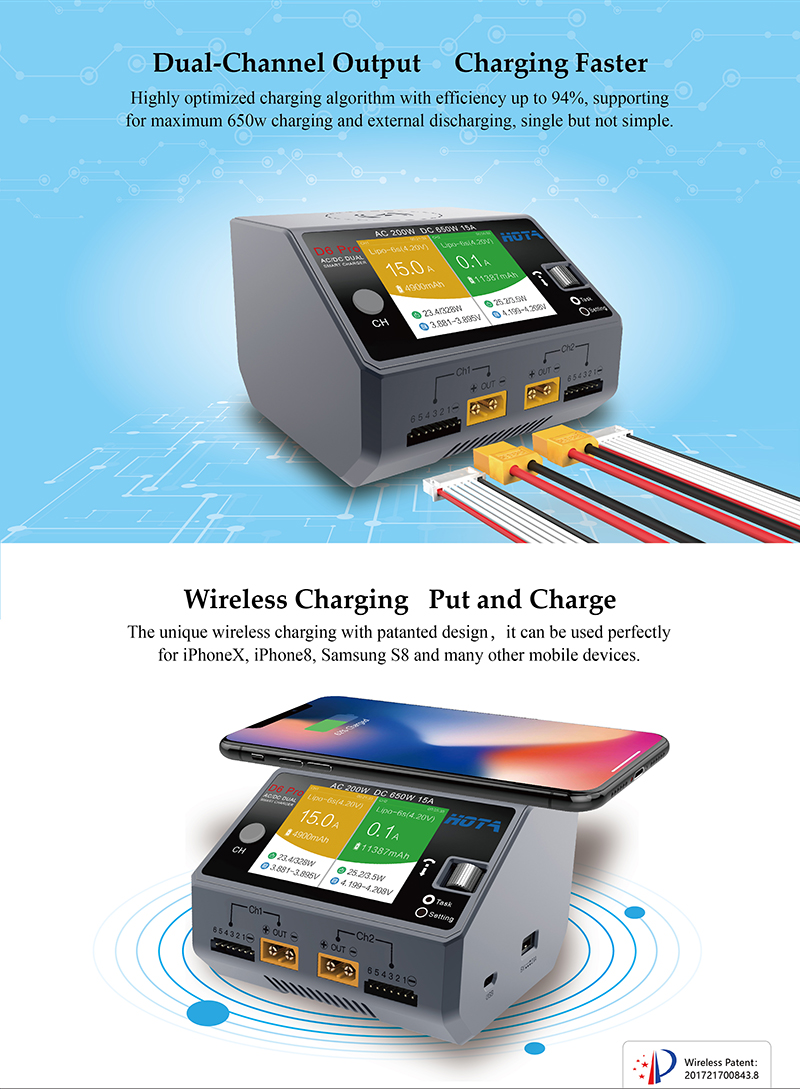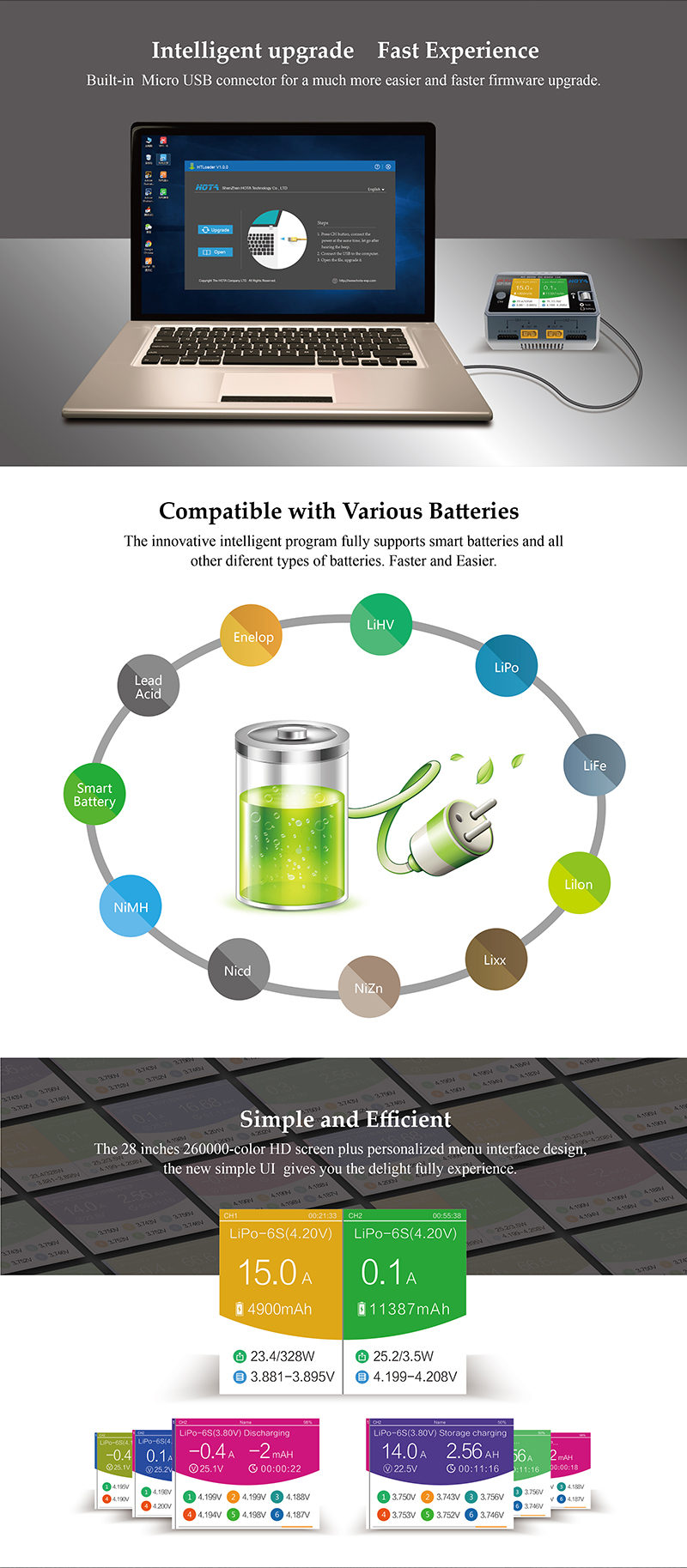 Warranty Policy:
If any warranty needs for this product arise, please note that the manufacturer of this product is one of the few manufacturers we carry that requests the end user to contact them directly for any troubleshooting or possibly defective items. We must follow these policies set by these manufacturers. Please make sure to contact them directly if you feel your product is defective in any way. Reach out to us if you need an email address or contact link for this manufacturer.