BETAFPV 2004 series brushless motor is a smooth-running, powerful, and more controllable ultralight 16.5g 4-6S motor. 2004 3000KV is suitable for 4S power. This series is great for a 4-5inch quadcopter. We recommend pilots using 2004 motors with 35A AIO Brushless FC/ F405+35A ESC and 5025/5125 props to build your drones, this match will give you a strong power to fly more flexible and durable.

Check out our other 20XX Motors and the rest of our BetaFPV products!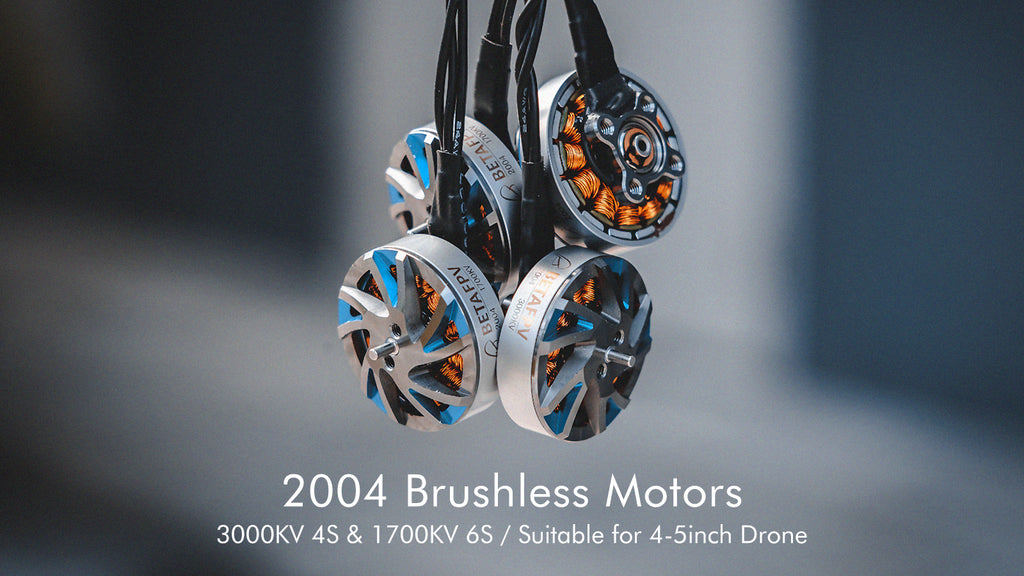 Bullet Point
BETAFPV 2004 3000KV brushless motor is an

 

ultralight

 

4S motor. They only weight 16.4g/pc.
2004 series Motors retains φ1.5mm shaft design instead of thread shaft for saving weight, which means it needs M2 screws to lock props, while most of 4'' props are locked with nuts in the market.
Highly recommend 5125/5020 propellers and 35A AIO Brushless FC/ F405+35A ESC to match the 2004 motors on 4-5 inch drones to get a smooth-running, powerful and more controllable flight experience.
2004 motors are perfectly suitable for the 4-5 inch drone, you will get strong power and stable flight. We highly recommend it for

 

X-Knight5 Digital VTX,

 

X-knight5 and

 

TWIG ET5.
Attractive appearance design, 2004 brushless motor is like a tire, perfectly matching its powerful characteristics.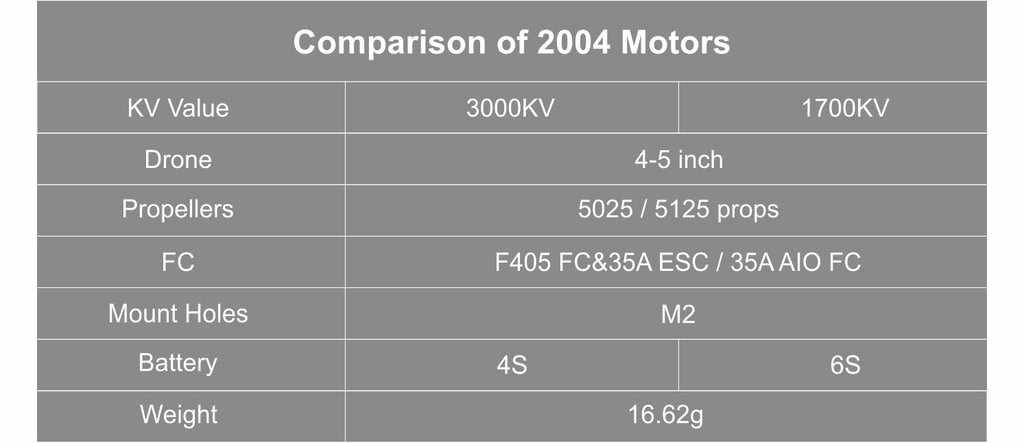 2004 3000KV Brushless Motor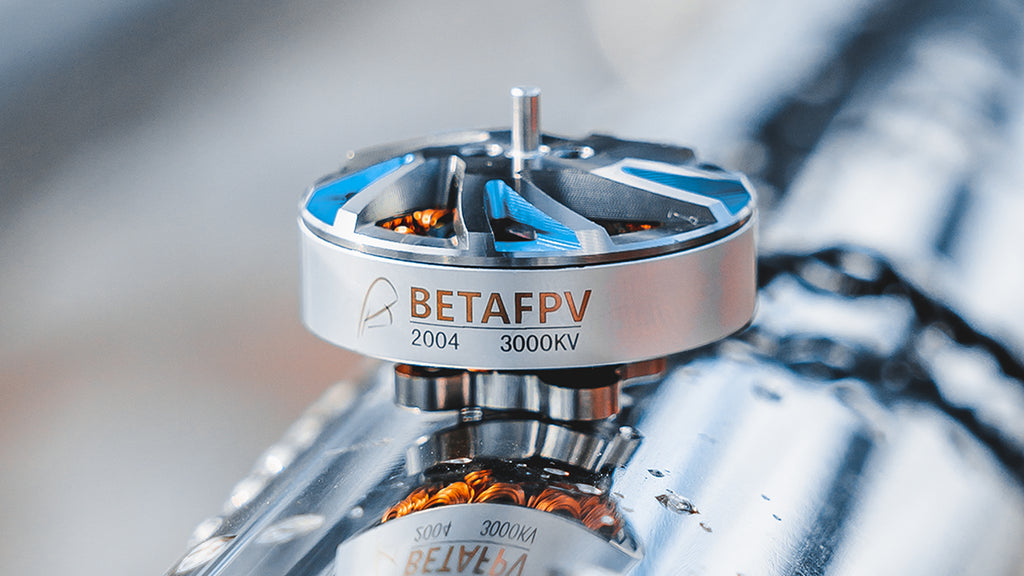 Specifications:
Item: 2004 brushless motor
Motor KV (rpm/V): 3000KV
Weight: 16.4g/1pc
Color: Blue-Grey
Shaft: φ1.5mm
Shaft length: 3.8mm
Shaft diameter: 1.5mm
Hole distance: 12mm
Motor Mount Holes: M2
Input Voltage: 3000KV for 4S
Cables: 100mm long, 24AWG cables
Dimensions: 24.6*24.6*17.2mm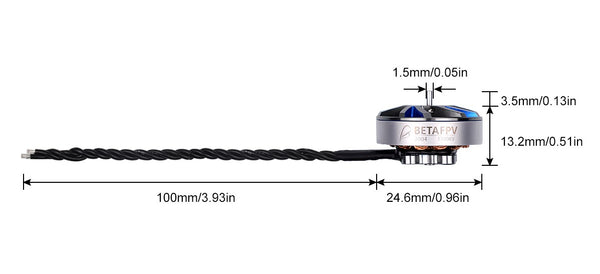 Recommended Parts for 2004 3000KV Motors
Flight Controller: 

F405 Flight Controller

 & 35A BLHeli_32 ESC and 

35A AIO Brushless FC

.
Compatible Propellers: 

Gemfan 5125 3-Blade props

 and Gemfan 5020 props

Battery: 450mAh 4S battery and 850mAh 4S battery

Frame: 4-5 inch Frame, highly recommend  

TWIG ET5 5'' Toothpick Frame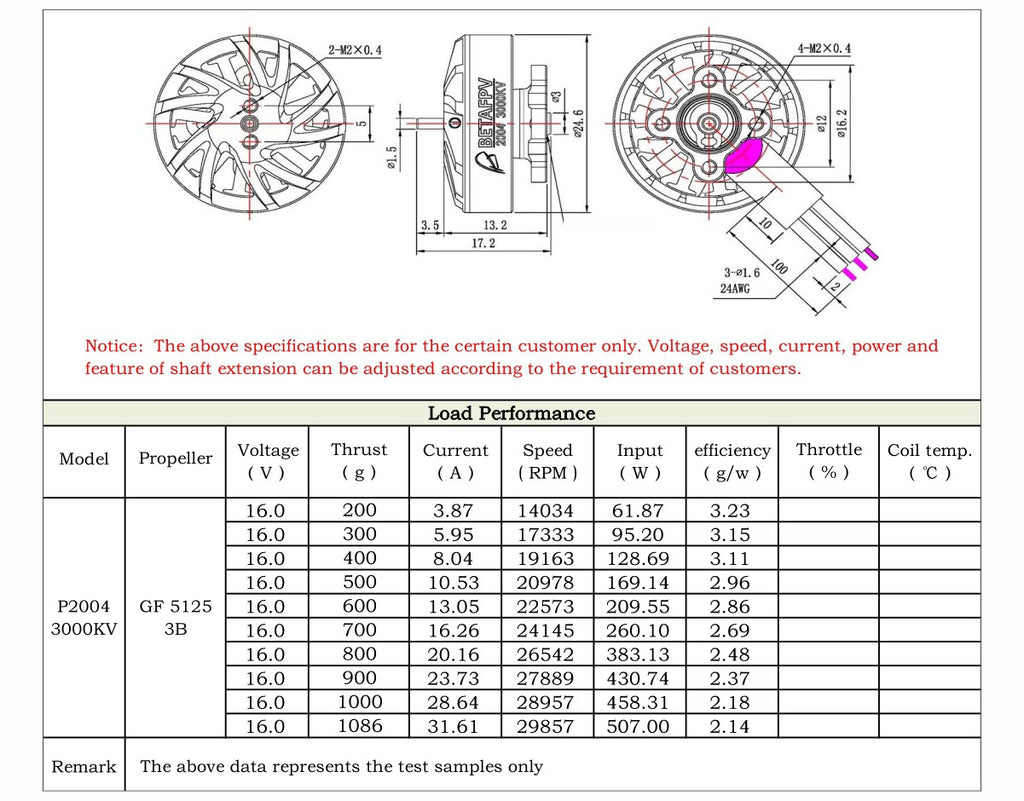 Package Includes:
1 * 2004 3000KV Brushless Motor
1 * Pack of M2 Screws