The ultralight F4 1S 5A AIO Brushless Flight Controller is back in stock with new and upgraded features. Compared to the previous version, the new board uses Serial ExpressLRS 2.4G instead of SPI ELRS 2.4G so that it can support ExpressLRS V3.0. We updated the FC with high-quality BMI270 gyro and BB51 ESC hardware. In addition, this new board supports the Betaflight Blackbox function.
Check out all our Whoop Style AIO Flight Controllers and the rest of our BetaFPV Products!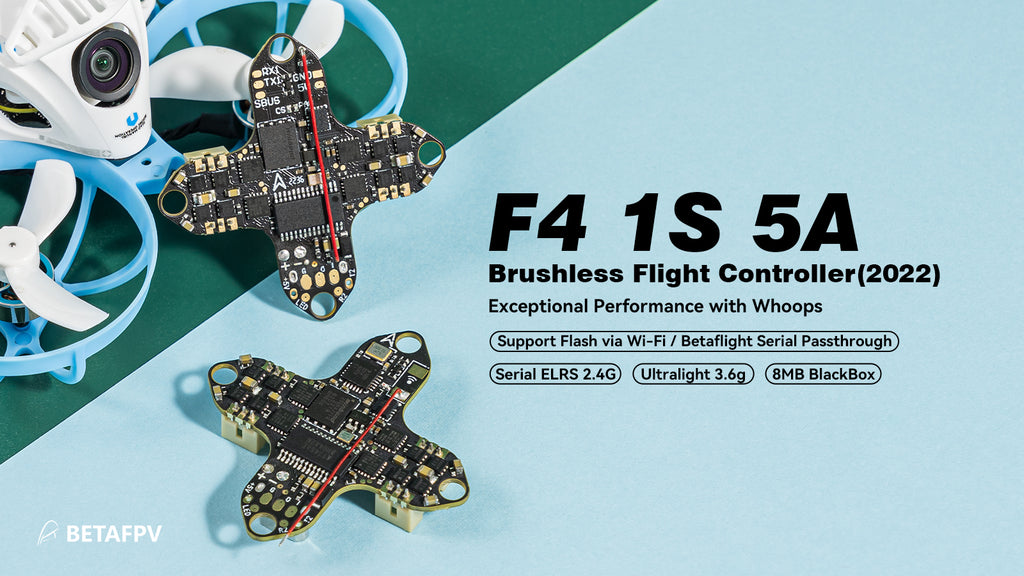 Features

Come with a Serial ExpressLRS 2.4G receiver, which can be updated via Wi-Fi or Betaflight serial passthrough. It is convenient for pilots to flash any version of ELRS RX firmware and especially can flash ExpressLRS V3.0 without updating flight controller firmware.
Built-in an 8MB flash memory chip dedicated to Blackbox logging. It's an extremely powerful tool for tuning and troubleshooting an FPV drone.
Integrated motor pin connectors, it is easy to install motors without soldering work.
Particular design with only 3.6g ultralight weight, reasonable layout, and easy to build. With a 26*26mm mounting hole size, it is fully compatible with the whoop frame in the current market.
Specification of FC
CPU: STM32F411CEU6 (100MHZ)
Six-Axis: BMI270
Built-in Receiver: Serial ExpressLRS 2.4G
Receiver antenna: Line antenna
FC Size: 30*30mm
Mounting Hole Size: 26*26mm
Firmware version: betaflight_4.3.1_BETAFPVF411 (ELRS)
OSD: Built-in BetaFlight OSD

Blackbox: 8MB
Power Cable: 55mm, with BT2.0 connector
Weight: 3.6g(ELRS) without power cable and BT2.0 connector
Specification of ESC
Power supply: 1S
Current: 5A continuous and peak 6A (3 seconds)
ESC firmware: A_X_5_.HEX for BB51 BLHeli_S hardware
Signal Support: D-shot150, D-shot300, D-shot600, Oneshot125, Multishot, PWM
The BLHeli_S firmware could support the BB51 hardware now. This board is powered by BB51 hardware. If you want to setup the ESC specification, please use the BLHeliSuite16714902A_Beta or ESC-Configurator.
Diagram
Below is the diagram for Serial ELRS 2.4G RX.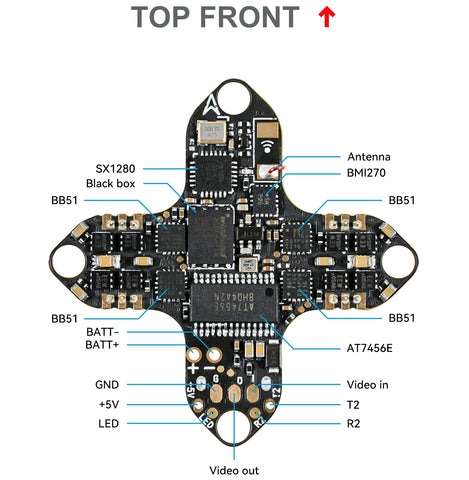 Serial ELRS 2.4G RX
Serial ELRS 2.4G RX uses the Crossfire serial protocol (CRSF protocol) to communicate between the receiver and the flight controller board. So the Serial ELRS 2.4G RX is available to support upgrading to ELRS V3.0 with no need to flash Betaflight flight controller firmware. Enter binding status by power on/off three times.
Plugin and unplug the flight controller three times;
Make sure the RX LED is doing a quick double blink, which indicates the receiver is in bind mode;
Make sure the RF TX module or radio transmitter enters binding status, which sends out a binding pulse;
If the receiver has a solid light, it's bound.
The Serial ELRS 2.4G RX can be updated via Wi-Fi or Betaflight serial passthrough. Here is the way to update the Serial ELRS 2.4G RX firmware through passthrough.
Turn off telemetry in the Betaflight configurator.

Power cycle, while holding the Boot button to put the ELRS receiver into the bootloader.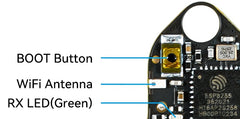 Open the Betaflight configurator, exit DFU mode, and make sure the Betaflight is disconnected from the flight controller.
Flash using the Passthrough option in ExpressLRS Configurator.
How to flash firmware via Wi-Fi here.
Betaflight Firmware and CLI
F4 1S 5A AIO Brushless Flight Controller comes with the default firmware betaflight_4.3.1_BETAFPVF411 (ELRS). The default firmware for Serial ExpressLRS 2.4G RX version supports ELRS V2.4 RX.
Pay attention, For the Serial ExpressLRS 2.4G version, ONLY the Betaflight firmware 4.3.0 and up start to support this BMI270 gyro. For the SPI Frsky version, DO NOT flash the other firmware, otherwise, the RX will be lost in control at a very close range. We have already built our own firmware betaflight_4.2.11_BETAFPVF411RX for SPI Frsky RX version to support BMI270 gyro. Please check the below link to download the firmware.
Note: The RX RSSI values drop when the flight controller is installed on the quadcopter with HD digital VTX (Walksnail or HDZero). For example, the theoretical failsafe RSSI values for 250Hz packet rate are -108dBm. Actually, the RX will be possibly lost in control when the RX RSSI values reach about -92dBm.
Bluejay ESC Firmware
F4 1S 5A flight controller with BB51 ESC hardware could flash the Bluejay ESC firmware now, which is based on BLHeli_S revision 16.7. With Bluejay ESC firmware, it supports bidirectional D-shot and RPM filtering in Betaflight, offers 24KHz, 48KHz, and 96KHz fixed PWM frequency for options, and custom start-up melodies. By using Bluejay ESC firmware on Meteor65 and Meteor65 Pro whoop drones with 0802SE 19500KV motors, the flight time is increasing effectively. The default firmware for F4 1S 5A FC will be changed to Bluejay ESC firmware.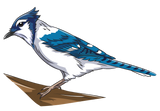 For pilots who want to flash Bluejay ESC firmware for F4 1S 5A FC, please use the BLHeliSuite16714902A_Beta or ESC-Configurator and download Bluejay ESC firmware A_X_5_.HEX from the below links.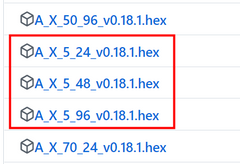 Connecting External RX/HD Digital or Analog VTX 

Package

1 * F4 1S 5A AIO Brushless Flight Controller (ELRS 2.4G)
4 * M1.2x4mm Screws
4 * M1.4x5mm Screws
4 * Anti-vibration Rubber Dampers