DYS F4 PRO V2 flight control with high performance which is designed for FPV hobbyists. Not only combine PDB board together with flight control, but also integrated OSD, current meter, voltmeter and built-in high power BEC etc functions.
DYS F4 PRO V2 flight control can meet all the functions you need include FPV racer, aerobatic flight and aerial photograph.
Specification
Betaflight DYS F4 PRO firmware
STM32F405 master with higher refresh rate and more function ports
5V 3A BEC output
9V 1.2A BEC output
3.3V 0.3A BEC output
Compatible all split-type escs, connect with DYS 4-in-1 esc (F20A or F30A) with flexible flat cable
Support BF setting software to flash and debug OSD
Integrated current sensor to monitor the power consumption etc in real time
Use remote control to view flight control parameter through OSD
Support SAMRT AUDIO, adjust the VTX by OSD
Comes with heat resistance damping ball to upgrade the stability and operation
3-6s lipo input, integrated PDB, max withstand current 160A
Net weight 10.5g, exclude the cable
The refresh rate of PID and gyro up to 8K


Data
l Whole size:L 38mmX W 38mm, hole distance30.5X30.5mm
l Six-layer PCB board and 3OZ copper to enhance the over-current and heat dissipation
l PDB board with reverse high voltage protection circuit     -MCU:STM32F405 GRT6    -IMU:MPU-6000    -OSD:AT7456E    -FLASH: 8M memory
- Current sensor:0-200A
- Added S5,S6 motor control signal (support 6 axis feature once firmware upgraded)
- Integrated reverse high voltage protection circuit
- Integrated circuit protection to USB port
- 3.3V LDO to power on internal circuit
- 9V BEC: 1.2A
- 5V BEC: 3A/ one-way output to avoid external interference
- When use with 4-in-1 esc, plug in the battery to supply the flight control instead of BEC.
2. Connection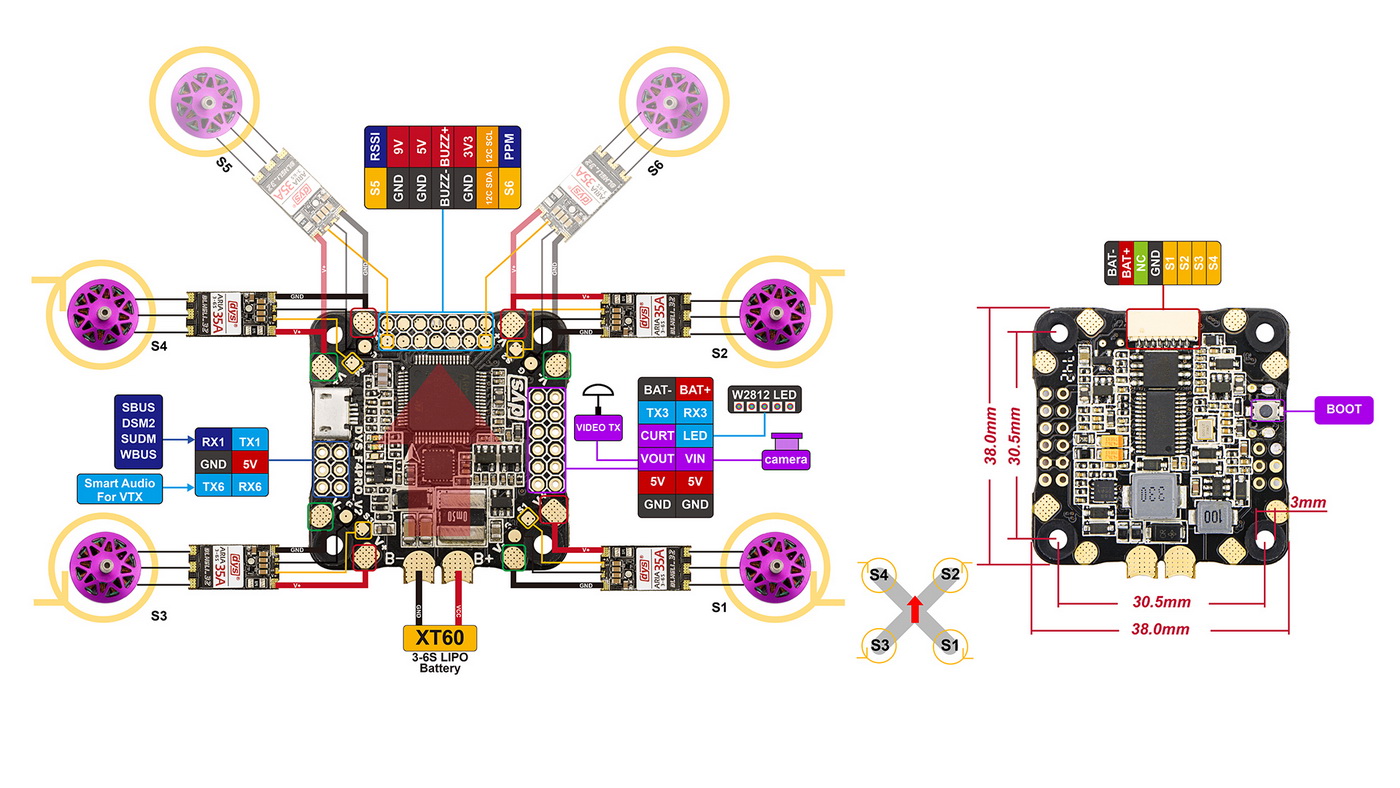 V+ V-:For esc power cable
S1-S6:For GND of the corresponding esc signal cable
BOOT:BOOT button  ( for firmware flash)
5V:3A output, can connect with VTX, receiver, lens etc 5V power device at the same time
9V:1.5A output, can connect with wide voltage device, such as 7-24V power VTX etc.3.3V:Power supply for DSMX etc 3.3V power device
GND:Negative
Vout:Video output for VTX image signal cable