Pavo360, the newest generation of 360 FPV quadcopter, generated by BETAFPV, has superb performance in its recording, flying performance, stability, and design. The drone comes with landing gear, protecting the camera lens when the quadcopter lands on the surface, giving the Pavo360 ability to land anywhere. The ultra-thin and flat frame design made sure the drone is completely invisible when recording a video with the SMO360 panoramic camera.
Check out all our BNF Cinewhoops and the rest of our BetaFPV Products!
Find all Pavo360 Related Gear Here!
HD Vista Polar version is also available. 
Features:
The Pavo360 is the first 360 FPV drone with landing gear generated by BETAFPV. Compared with

 

X-Knight 360 FPV Quadcopter, it protects the camera lens when the quadcopter takes down from air to surface, the Pavo360 is able to land on most flat surfaces.
Both analog and HD Digital VTX versions come with Toothpick

 

F722 AIO 35A FC,

 

2204-2400KV motor

 

& Gemfan

 

D76 5-Blades props, this highly efficient propulsion system lays the foundation for powerful and stable flight.
Equipped with a newly developed Pavo360 frame, which is made of PA12 material, it has higher abrasion resistance, toughness, and shows excellent impact resistance in drop & impact tests.
The ultra-thin and flat frame design with

 

SMO 360 Camera

 

(not included) makes it possible to record and enjoy the 360 videos without any unseen areas. Pavo360 is perfectly called an invisible drone. 
There are two versions for Pavo360 FPV Quadcopter. Both versions support the

 

SMO360 Camera. Please note that the Pavo360 camera mount is suitable for the

 

SMO360 Camera

 

only and other cameras can not be installed. We highly recommend buying

 

BETAFPV SMO 360 Camera

 

together.
Specifications:
Item: Pavo360 FPV Quadcopter
Motor:

 

Black 2204-2400KV (6S)
Power connection:

 

XT30 double-end aircraft model power connector, red and black wire plus subboard
Propeller:

 

transparent grey GF D76-5B
Flight Controller:

 

F7 6S AIO 35A Toothpick Flight Controller

FPV Camera&VTX 

(Analog version): Caddx Ratel+A02 800MW

FPV Camera tilt angle: 0-60°
Weight: 316g
Wheelbase: 168mm
Receiver: PNP/TBS Crossfire receiver
Flight time: Smooth flight about 5 minutes
Package Includes:
1 * Pavo360 FPV Quadcopter (Without

 

SMO 360 Camera)
2 *

 

CW Gemfan D76 5-Blades Propellers
2 *

 

CCW Gemfan D76 5-Blades Propellers
1 * Pavo360 Sticker
2 * 3S 850mAh 75C XT30 Battery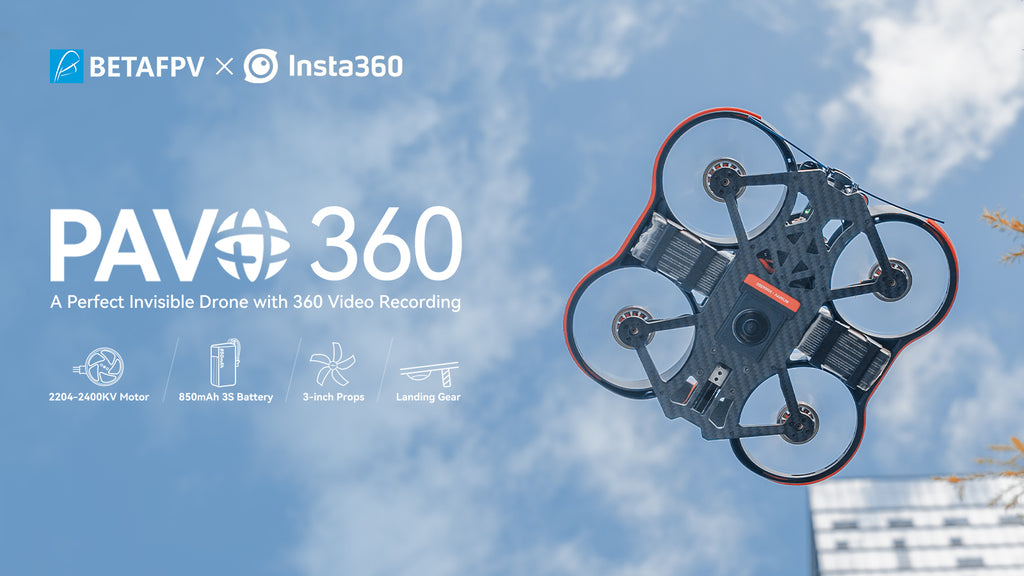 BETAFPV SMO 360 Camera
A high-degree ultralight action panoramic camera designed for Pavo360 FPV Drones! Developed by BETAFPV using Insta360 technology, SMO 360 camera only weighs 55g and is perfectly fitted for Pavo360 FPV drones. The distance between the 2 lenses is 40mm, giving more room to the drone height. Meanwhile, with the FlowState stabilization function, pilots can shoot panoramic video and get an ultra-smooth and stable video, which makes the SMO 360 camera the best choice for pilots in search of high-quality 360 videos with FPV drones!
The Pavo360 drone set does not come with the SMO 360 Camera. Therefore, to better enjoy the Pavo360 FPV quadcopter, we highly recommend buying BETAFPV SMO 360 Camera together.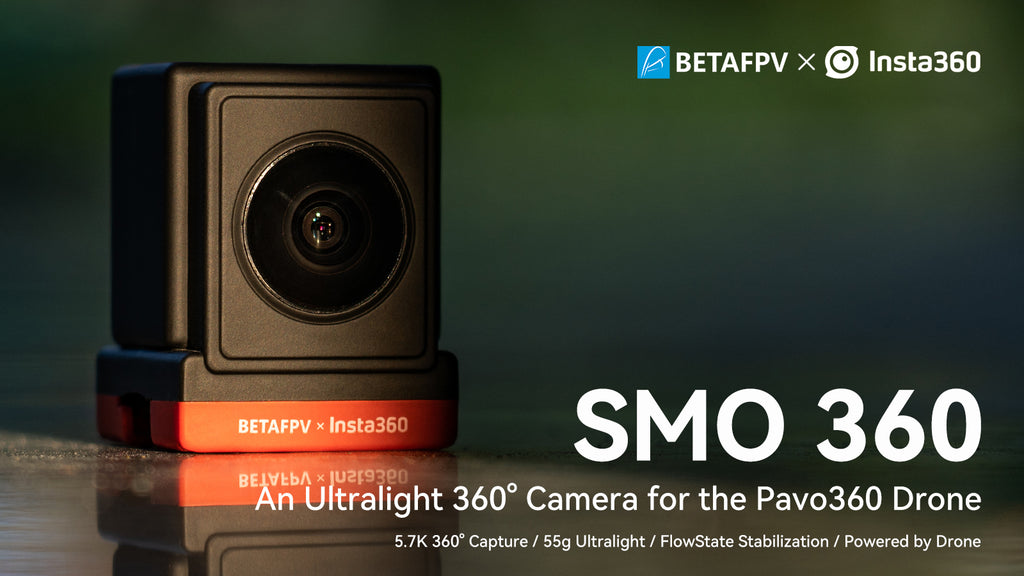 Caddx Ratel & A02VTX

The Caddx Ratel is a great camera choice for both night flights as well as during the day! Equipped with a high-quality 1/1.18" HDR sensor, it provides up to 0.0001 Sensitivity of lux. It is very versatile in that you can switch between PAL and NTSC video and also between 4:3 and 16:9 video formats. Latency is super low at only 8ms.
A02 5.8G VTX is a lightweight, small size, and high-quality 25-800mW VTX, it offers a selectable 25/200/500/800mW output power for extreme range FPV flight. With 800mW output power, pilots can fly drones up to 1100 meters away to explore more possibilities and fun.
Landing Gear
New and incredible design for the Pavo360. BETAFPV efforts to improve the durability, performance, and creativity of drones. With the landing gear, which protects the camera lens when the quadcopter takes down from air to surface, the Pavo360 is able to land on most flat surfaces.

Note: Although the Pavo360 equips with landing gear that is designed for protecting the SMO 360 camera lens, further protection is necessary. Strongly recommend buying lens guard together.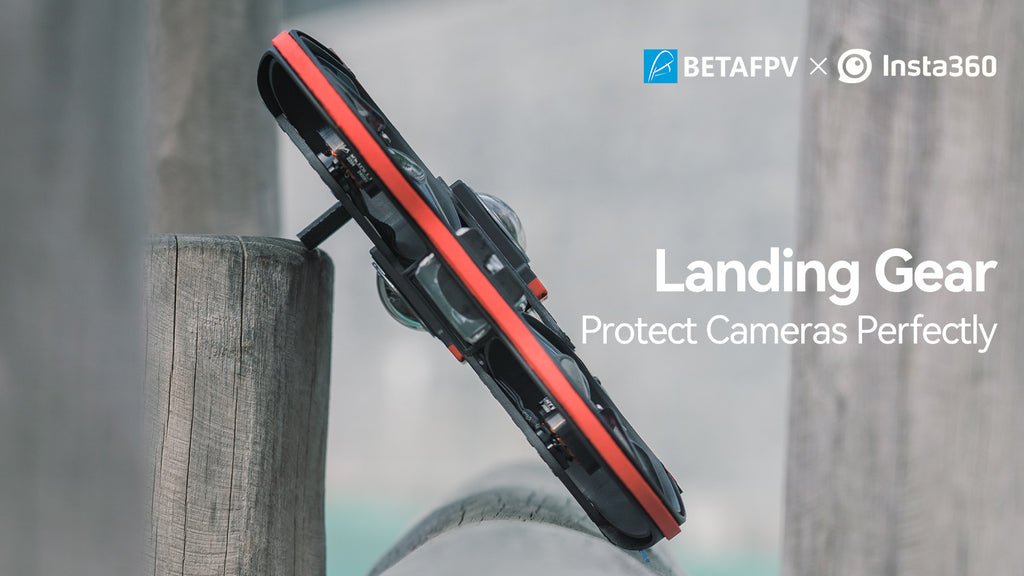 After binding, you can control the extension or retraction of the landing gear on the 8th channel toggle switch (default settings) of your transmitter. This function setting is available to be changed on your transmitter or flight controller.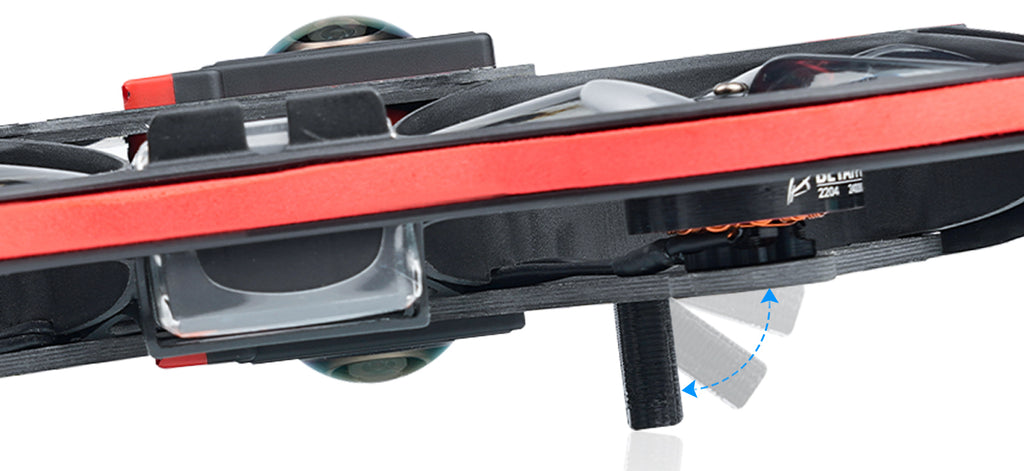 Flight controller setting for landing gear
Open Betaflight Configurator and connect the flight controller. Enable Expert mode.
Select Configuration and enable

 

SERVO_TILT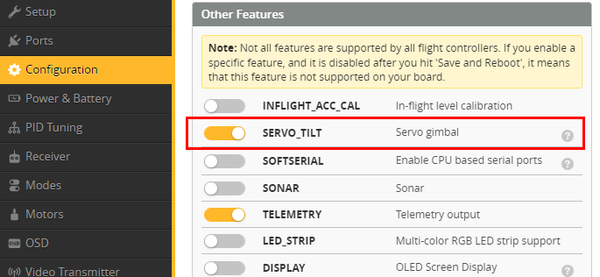 Go to Servos tab on the left list of the Betaflight Configurator.
Change the channel for landing gear. The default channel is A4 on Servo 0.
Finally, enter the CLI commands via Betaflight configurator.
resource SERVO 1 A08
resource LED_STRIP 1 NONE
save
Note: Only the Servo 0 is available. Other servos like Servo 1, 2, or 3 are not active. Please do not set the channel on other servos. Otherwise, the landing gear will not work. 
Pavo360 Frame Kit
This frame kit is a new, ultra-thin, and flat frame design for Pavo360, which perfectly invisible the drones when recording a video. With the material of high-quality carbon fiber, the frame is not only secured and well built but also weighs light. Response very fast with F722 AIO Brushless FC 35A(BLHeli_S) and 2204-2400KV Motor. Pilots will enjoy a flight experience with Pavo360.


Wiring Diagram for Electronic Parts
Below is the connection diagram for the HD Digital VTX version.
Click here to download the CLI for Pavo360 FPV Quadcopter.
Below is the connection diagram for the Analog VTX version.
Click here to download the CLI for Pavo360 FPV Quadcopter.


Note: The remote recording and power cables for SMO 360 camera are not soldered on FC board when the the factory. Please solder it if you want to use this function.
SMO 360 Camera Mounting Instruction
The SMO 360 Camera is designed for Pavo360 quadcopter. Pilots can remove the top plate cover and directly install it on the drone.
Motors & Props
Pavo360 analog VTX and HD Digital VTX version come with 2204-2400KV motor & Gemfan D76 5-Blades props, these 2 configurations achieve a perfect dynamic balance, which gives the drone more flexible and longer flying time. Pilots can enjoy powerful and stable flights with less noise.